"Ethanol will not have a growth future. It will have a decline future. You better find a home for the grain, and it better be livestock," Michael Swanson says. ( iStock )
Michael Swanson, Wells Fargo chief ag economist, says he thinks there are supply and demand drivers in the agricultural market bigger than COVID-19, however, there will be long-term trends accelerated by the pandemic.
"I'd argue this is not a black swan event. Pandemic is an existing word for a reason," he said during a webinar hosted by AgTech Next. "It falls in a category of events that happens periodically that causes companies to reevaluate their strategies."
Part of that revaluation he says are if the factors of the pandemic are "structurally changing" the market or if they are accelerate or emphasize existing trends.
The three trends he's watching are:
Demographics—including population growth continuing to slow while urbanization continues to increase
Yield gains stay on trend—with additional technology adoption
Food trends stay steady—consumers increasingly focus on ease, health, and variety
What does this mean for row crop farmers? 
"Prepare for a different market in row crops. Pick your assets carefully. Pick your battles carefully," he says.
As Swanson explains, global agricultural demand is changing. Specifically, the destruction of demand for ethanol is coming at a time where technology is advancing beyond liquid fuels.
"The biggest threat to farming is Tesla. You can't force a Tesla to put in ethanol–no matter what you set the blend rate at. There is wholesale movement to electric vehicles," he says.
He says 10 years from now battery pack power will be up to 50% better than today, ethanol demand will slowly fade over 20 years.
"Ethanol will not have a growth future. It will have a decline future. You better find a home for the grain, and it better be livestock," Swanson says.
What does food demand look like? 
If he had to point to one country as a model for the future of how developing countries will create food demand, he'd point to China. And protein—both animal and plant-based—will bring opportunity.
Swanson explains that global cereals production (2.1% production growth) has exceeded population growth (1.6%). He also cites data that vegetables are trending to be on more acres and increase yields.
"That's where the money is. That's what people want. They have enough calories—they want health, variety and ease of eating."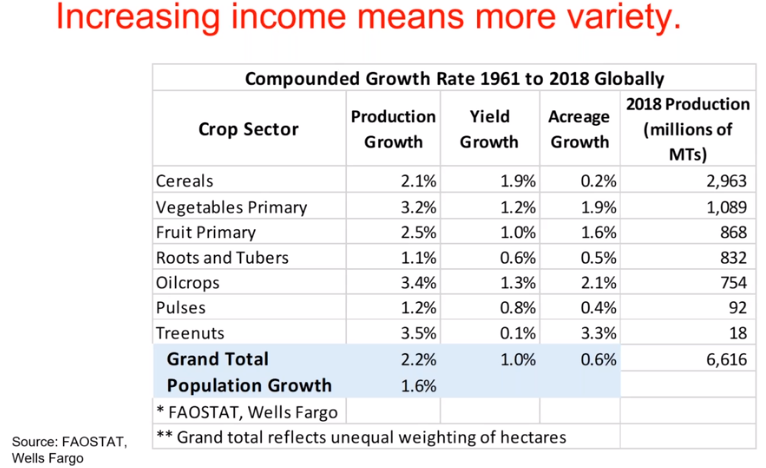 This is also the opportunity he sees for indoor farming, which could include product by traditional farming entities, although that comes with challenges.
"Established growers will choose their battles–does something stay in their portfolio, stay in their rotation, or should they invest in new technologies," he says. "Like a legacy car company, it's tough to protect your legacy and be a destructive force in the same industry."
Will technology bring solutions? 
Swanson sees the agriculture industry as a heavy technology user, however, not the origin for new technologies.
"We will ride on the shoulders of the bigger tech market, but it doesn't mean we won't take advantage of those opportunities. When I talk to farmers, I say everyone has in their pocket a smartphone. That's been one of the biggest drivers of ag innovation. We as an industry weren't big enough to drive that innovation, but a lot of bright programmers took that technology and thought of the ag applications," he says.